Regardless of the chaos, some entrepreneurs believe that it's still a good idea to continue moving in the property market because during unstable times like this, it's an entrepreneur's playground at finding solutions for problems. It has always been one of Ayo's goals to carry out a development project because of the vast opportunities that are available out there. Whether you're interested in building a property from the ground up or looking to develop a 3-bedroom property to a 5-bedroom property, this is an entirely different ball game to R2R or BTL.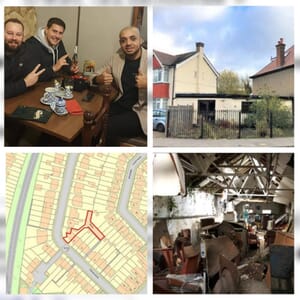 With Ayo's experience in creative financing for BTL of 8 years, alongside acquaintances within the development industry, it's a natural progression to transition into higher level strategies. This is despite being burnt by an investment that did not come to any fruition in 2018. Upon building a good relationship and rapport with joint venture partners Daniel Farrow and Heinrich Lingenfelder, who already had experience and knowledge of development, they made the decision to combine resources and move forward with this opportunity.
The land had already got planning permission for two houses and the initial objective was to gain planning uplift, then to cash in on the land as quickly as possible. However, through inventive ways of restructuring, enhancing the planning scheme and a redesigned layout, they will now be making better use of the land to potentially fit 6 houses instead of 2. There are many moving cogs in the process including working with the council to have your plans approved, ensuring that you comply with the regulations, project managing the development, and not to mention raising the finance which was Ayo's main task on this! With these variables combined, development is not for the faint-hearted. It's not for everyone, if anything, it can be very stressful and could even break you.
We are firm believers in having calculated risks and despite of the current economic crisis that we are all going through together, there are still many opportunities for us to thrive. Development as a strategy is generally not the go-to for individuals who want to get into property investment for the first time. This is because it requires a lot of up-front funds and experience. However, the returns are high and if you know what you're doing, you can make huge returns. Here's a massive congratulations to Ayo and his JV partners Daniel Farrow and Heinrich Lingenfelder! Stay up to date, let's see what they end up doing with this.